Young Explorers Summer Program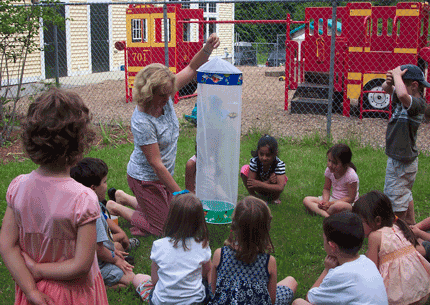 Village Nursery School (VNS) offers a wonderful set of weekly  summer programs . Programs are grouped by age:
Seedlings: Children entering a Threes Program in the fall
Saplings= Children entering Young Fours or a Pre-K Program in the fall
Birches= Children entering kindergarten in the fall
Combining indoor and outdoor activities, the developmentally appropriate weekly units are designed and staffed by our own highly qualified teachers. Students create, explore in a range of group activities while having time to make one on one connections and individual time. This program is an ideal opportunity for children to make new friends, meet new teachers, and introduce new incoming students to VNS in a most relaxed atmosphere..
– Summer Program is for children 2.9 to 6 years old.
– Select from one to three weeks.
-9am-12pm for Threes aged children
– 9 a.m. -1 p.m for Young Fours and Pre-K aged children
– Children should bring a nut-free snack lunch from home, and a bathing suit and towel for sprinkler fun!
The Village Nursery School's Young Explorers Program takes full advantage of our wonderful wooded site in Harvard. Children will have access to our Nature Trails, Nature Nook, Village Woods, and Playground, as well as our beautiful school building. Teachers will engage children is nature related science, art, sensory, and language activities. We'll enjoy nature hikes, picnics, water play, music, and more!
2018 Summer Program

Week 1 June 13-15 (Weds-Fri)
Week 2 June 18- June 21 (Mon-Thurs)
Week 3 June 25-June 28 (Mon-Thurs)

Class sizes are limited, please return your registration for with payment by June 1, 2018
Our Summer Program is open to the community (non-current or incoming VNS families) if space is available. Call 978-456-3993 or email info@villagenurseryschool.org