Preschool & pre-K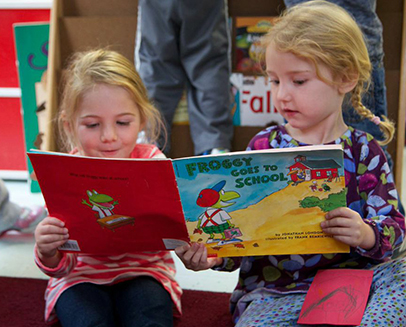 Our preschool classes are available for children 2.9 years – 6 years-olds. Programs are offered based on enrollment needs.  Our current offerings include:
MWF and Tues/Thurs Threes
Sept-Dec  (9-12)
Jan-June (9-1)
Three year old programs are often a child's first introduction to school. Emphasis is on learning to navigate a classroom setting and to be part of a group. Sensory, fine motor, beginning math and science activities are offered for children to explore. Basic social  and self-help skills are regularly practiced. Snack, circle time, stories, songs, outside play, and lunch (after Jan 1) are all part of a typical day.
Young Fours
Mon, Weds, Thurs 9-1
3.9 by Sept. 1.
Our Young Fours Program is for children with fall birthdays who miss the kindergarten age requirement, and often attend VNS for three or more years. Not quite threes and not quite Pre-K, this curriculum lands in the middle of the two. Children are ready for more sophisticated activities and an introduction to the skills that will be focused on in Pre-K, while still maintaining the importance of learning through play in preschool.
Pre-K
Mon-Thurs 9-1
4yrs by Sept. 1
Pre-K children are building on the knowledge and skills gained in their three year old programs. Conflict resolution and self help skills are much more independent and children are ready to explore topics and skills in greater depth. Emphasis is on kindergarten readiness skills while still maintaining the value of learning through play in preschool.
VNS's developmental philosophy is that each child is a unique learner, and brings his/her own perspectives and abilities to the classroom. To foster this theory, we believe in a small class size offers the best environment for learning.
Our most important function at Village Nursery School is to ensure that each child's first school experience is a safe, joyful and enriching one. Above all, we hope to impart a love of school and learning for all our students. Our classrooms provide a wide variety of materials and enrichment activities. Many are teacher-made to suit specific needs within the class. Learning Centers are provided daily to allow the children to enjoy activities of their choice.
VNS promotes creativity and imaginative thinking as we build on developmentally appropriate skills in a logical, progressive manner. Our curriculum closely follows the Massachusetts Curriculum Guidelines and Standards.
Our inclusive curriculum includes:
Interesting themes and units to expand horizons
Field trips and special on-site presentations
Literacy and Language
Math, science, engineering and technology (STEM)
Nature trail and Nature Nook activities
Music and movement
Exposure to diversity of nature, human culture and the world around us
Developing social skills
Center based activities: Art, Math, Cooperative Games, Reading, Writing, and Dramatic Play
Our classes provide individual attention. Student to teacher ratios for the class are typically: 1:5 for 3 year-olds and 1:6 or 1:8 for 4 year-olds and Pre-K students. Low student-teacher ratios make it possible for our teachers to focus on each child's unique learning style, needs and special talents.
Classes run from 9 a.m. – 12 p.m. and 9 a.m. – 1 p.m.
Two day programs for children 1.9 by Sept. 1 (Twos)
One, Two and Three-day programs for children 2. 9 by Sept. 1 (Threes)
Three, four, and five day options for children  3.9 by Sept 1 (Young Fours)
Four and five day programs for children 4 by Sept. 1  (Pre-K)
Located adjacent to Harvard Conservation Land and Trails, the teachers take advantage of this resource for outside projects and exploration for science and nature activities.